Icicle Canyon Artist Print Hat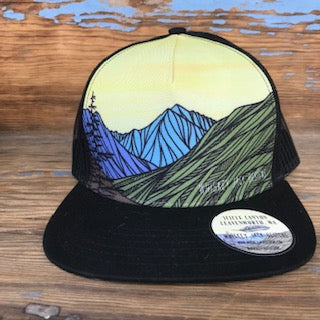 Description
The Goods: Snap back trucker hat turned to art by our very own Whiskey Jack Designs of Leavenworth. Keep those peaks in mind by wearing them on your head! 
Materials + Details:
Snap back canvas trucker hats are a one size fits most
The Maker: Whiskey Jack Designs
The Hometown: Leavenworth WA
The Story: 
Ali Hancock has been on a journey with art since she was young. Throughout her upbringing in the Colorado front range she explored different mediums including drawing, painting, photography, and pottery. She moved to Washington State to attend college at Western Washington University, where she majored in outdoor recreation. Shorty after completing her degree, she found a home in the beautiful and tacky Bavarian themed town of Leavenworth, Washington. It was in Leavenworth, where Ali bought her first wood burner and her clean line style quickly came to life. After perfecting her line work on wood, she began to include bold colors, with detailed line work while working with acrylic paint and watercolors. She is known in town for her ultra durable, hand painted hats that depict various mountain ranges from her travels. She now finds daily inspiration from her adventures while biking, hiking, skiing and surfing around the Pacific Northwest.