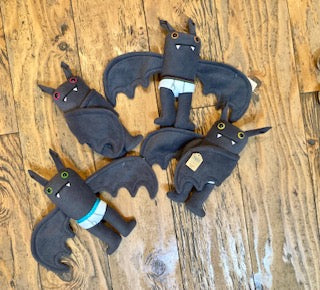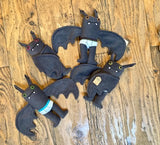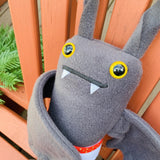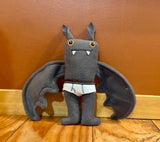 Description
The Goods:  A plush bat who flashes a pair of tiny tightie whities!  Fun, right?! As we request that the artist send us her favorite bats, please allow us to choose the absolute best one for you as well!
The Details + Materials: fleece, safety eyes and polyfill.  Standing 12" tall and with an impressive wingspan of 20" across this funny bat will bring lots of smiles and cuddles.  Made in Seattle, WA.
The eyes are plastic and called Safety Eyes. Safety eyes are made to be extremely hard to remove, but like any other toys with small parts, please use your judgment when purchasing this for a child under 3 years of age. I am always willing to make my toys with sewn on fabric eyes - just ask!
..........
Washing instructions: these fleece creatures can be carefully cleaned in a washing machine. For best results, tie bat up in a pillowcase (so its eyes don't get scuffed banging into sides of machine) and wash on cold/delicate. Dryer can be used on its lowest heat setting (also safest to keep it in the pillowcase!)

The Maker:  Careful It Bites, Kelice Penney

The Hometown: Seattle, WA
The Story: With this scary bat you can explore the wild, the mystical, the beautiful and the bizarre… creatures from the fringes of creation lovingly preserved by the careful taxidermy of Kelice Penney in that big city over the mountain pass from us, Seattle WA.