P.F. Candle Co. Room Diffusers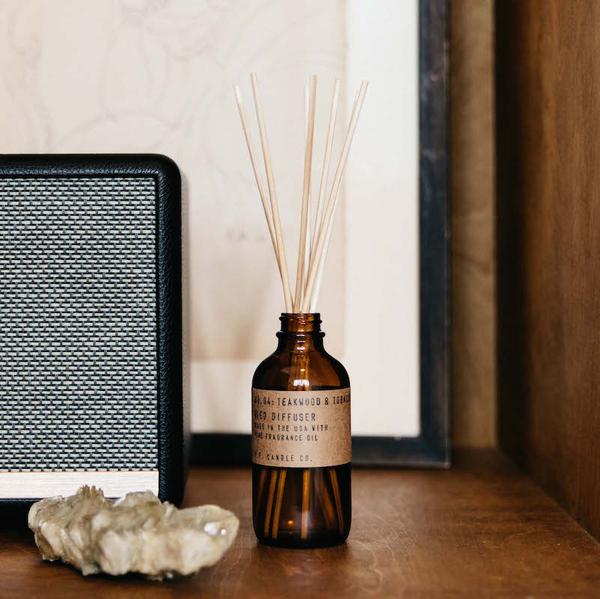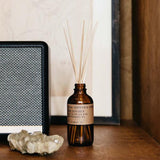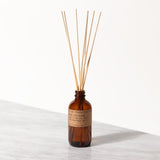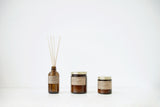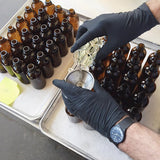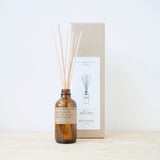 Description
The Goods: From your favorite candle company, these diffusers fill the room with fragrance without the need to light a candle.  Instead the scent just welcomes you and beckons you to enter.
Materials + Details:
Naturally harvested rattan reeds absorb the scented oil, releasing it slowly through your surroundings.

3 oz of fine fragrance oil come packaged in a simple apothecary-inspired bottle. Bottle measures 4.25" in height, reeds are 10" long.

Reed diffuser comes packaged in a recycled content kraft paper gift box. 

Lasts 2-3 months. Flip reeds weekly or when the fragrance becomes faint.

Do not consume, and keep away from children or pets. If the oil spills, clean up immediately, as the oils and resins can cause damage to some finishes.
The Maker: PF Candle Co
The Hometown: Boyle Heights, Los Angeles, CA
The Scents:
No. 11 Amber & Moss: This blend of scents evokes scratchy wool blankets on nights spent under the stars, with a base of musk and amber. Just a touch of lavender and orange brighten a room, with sage to finish, purifying your space.

No. 4 Teakwood & Tobacco: Leather, and spicy black pepper, mingle as the top notes, with the sweetness of pipe tobacco providing the heart of this scent. Orange and berry mellow out the masculine notes. Base notes of aged teak and sandalwood are rounded out with a hint of patchouli muskiness. This is a staff fav + a best seller.  It's been referred to as a bit sexy....



No. 29 Pinon: Winters in the Southwest or perhaps Summers in the PNW.  Lingering bonfires, wool jackets in rotation. Notes of pinon logs, cedar, and vanilla.
No. 21 Golden Coast: With this diffuser you're well on your way to an invigorating, energetic day. Meant to evoke the California coast, notes of salty sea air, redwoods, and eucalyptus burst into life, then settle with an infusion of sage and palo santo.



No. 26 Copal: Inspired by traditional Mayan incense, this scent is meant to purify mind, spirit, and space with relaxing notes of thyme, amber, rosemary, and cedar. Hints of pepper and cardamom add spice and positive energy.