P.F. Candle Co. Soy Candles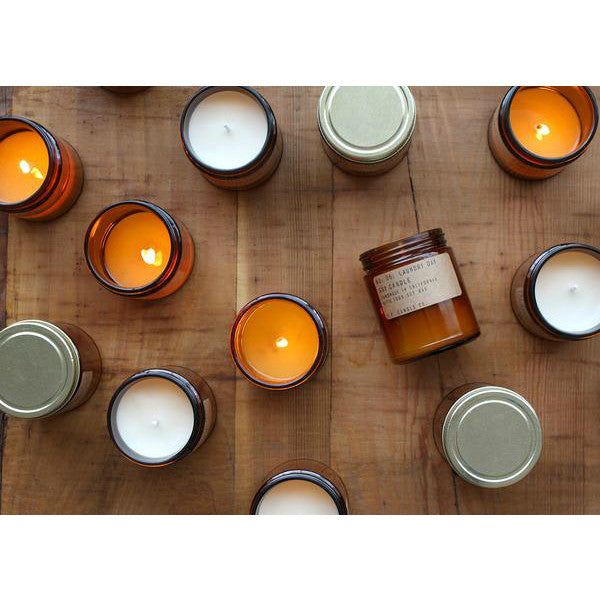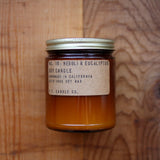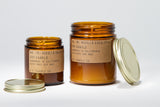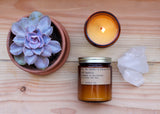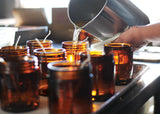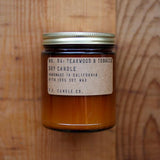 Description
The Goods: Candles lend a room a touch of coziness and elegance. With P.F. Candle Co. Soy Candles, you have the added pleasure of scents that permeate a space, but never overwhelm it. And when you're done burning, consider reusing the jar -- soy wax makes it easy to clean and send on to a new life as a toothbrush holder, planter, jewelry holder...
Materials + Details:
7.5 oz candle measures 2.75" in diameter and 3.75" in height. 7.5 oz candle burns clean for 40+ hours
3.5 oz candle measures 2.25" in diameter and 2.75" in height. 3.5 oz candle burns clean for 20-25 hours
For best burning results, we recommend burning for 3-4 hours at a time. Allow the melted wax to reach the edges of the jar to prevent the wax from building up and "tunneling". Never leave a candle burning unattended or within reach of a draft, pets, or small children. Allow candle to cool completely before handling.
The Maker: P.F. Candle Co.
The Hometown:  Boyle Heights, Los Angeles, CA
The Story:  PF Candle uses domestically grown soy wax, fine fragrance oils and cotton-core wicks. They hand-pour into an apothecary-inspired amber jars in small batches to ensure the highest quality.  Because of this they burn clean and fresh.
The Scents: 

No. 11 Amber & Moss: This blend of scents evokes scratchy wool blankets on nights spent under the stars, with a base of musk and amber. Just a touch of lavender and orange brighten a room, with sage to finish, purifying your space and clearing the mind.


No. 4 Teakwood & Tobacco:

Leather, and spicy black pepper, mingle as the top notes, with the sweetness of pipe tobacco providing the heart of this scent. Orange and berry mellow out the masculine notes. Base notes of aged teak and sandalwood are rounded out with a hint of patchouli muskiness. This is a staff fav + a best seller.  It's been referred to as a bit sexy....




No. 19 Patchouli Sweetgrass: Earthy, crisp, with just a hint of sweet - this blend combines the woody, floral musk of patchouli and a green note of sweetgrass. Hints of creamy sandalwood and smoky tobacco appear on the burn. Herbal and light, this unisex scent reminds us of the Southwest plains.


No. 21 Golden Coast: Light this candle, and you're well on your way to an invigorating, energetic day. Meant to evoke the California coast, notes of salty sea air, redwoods, and eucalyptus burst into life, then settle with an infusion of sage and palo santo.


No. 22 Mojave: Close your eyes and smell that indelible heat wave wafting in from the desert. Even on a rainy day, this scent brings you to the baking sun and brilliant nights of the Mojave, with white musk and cedar, along with a touch of creosote and golden poppy. White lavender and sage drift in, completing this transportive experience.



No. 26 Copal: Inspired by traditional Mayan incense, this scent is meant to purify mind, spirit, and space with relaxing notes of thyme, amber, rosemary, and cedar. Hints of pepper and cardamom add spice and positive energy.
No. 29 Piñon: Lighting your piñon candle: the easiest way to bring the essence of the deserts of the Southwest into your home. The gentle earthy aroma of this candle will have you baying at the moon and dreaming of cacti in bloom. A lush pine forward with a soft vanilla finish.