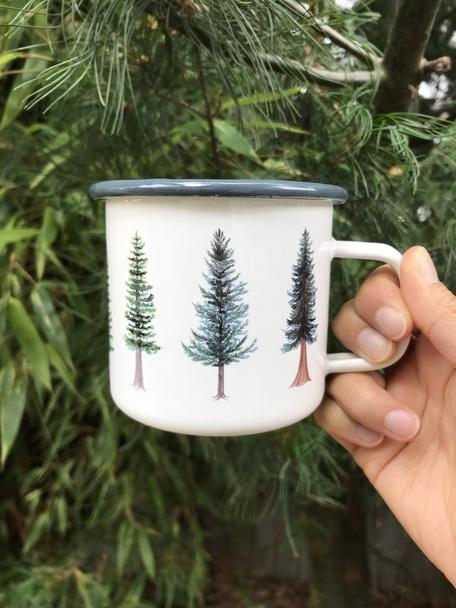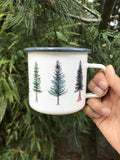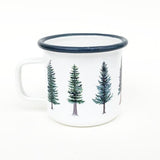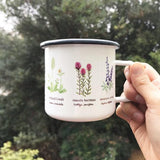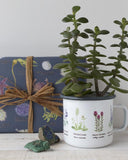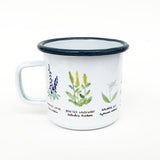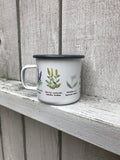 Description
The Goods: This beautiful 11oz steel enamel mug is decorated with illustrations of Pacific Northwest wildflowers or evergreen trees by local PNW artist, Yardia. The perfect gift for the outdoor enthusiast in your life.  This mug is made for sipping cocoa fireside.
Materials + Details:
Metal: Steel
Size: 11oz
Care: Dishwasher safe, Do not microwave
Made in China, Printed with illustrations in USA
The Maker: Yardia
The Hometown: Pacific Northwest
The Story: Brigita Swanson, owner and founder of Yardia, creates unique Pacific Northwest-inspired watercolors and prints them onto a variety of gifts and paper goods. The goal of her work is to invoke heartfelt messages that cannot be expressed by words. If her work reminds someone of home or makes them tear-up over a memory then her job is done. As a Pacific Northwest artist she is inspired by the magic of nature that surrounds us in this amazing place. 
Wildflowers:
This special wildflower mug features illustrations of the following PNW wildflowers:
Broadleaf Lupine - Lupinus latifolius
Bracted Lousewort - Pedicularis bracteosa
Avalanche Lily - Erythronium montanum
Rockslide Larkspur - Delphinium galreosum
Pasqueflower  - Anemone occidentalis
Magenta Paintbrush - Castilleja parviflora