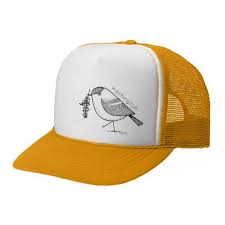 Description
The Goods: Gold and white trucker hat featuring original Goldfinch illustration. The Goldfinch is the state bird of Washington, holding a sprig of hemlock, the state tree. Printed locally in Twisp, WA.  This hat makes us feel happy and bright!
The Details + Materials:  A super cheerful yellow 5-panel foam front traditional trucker hat.  We like to call this type of hat a Foam Dome because we are funny like that :)
The Maker: Red Umbrella Designs
The Story: Red Umbrella Designs was founded in 2012 by illustrator and graphic designer Baylie Peplow. After graduating with a degree in architecture and then teaching in a Montessori classroom, Baylie now spends her time creating new designs, running the business, and raising up a little family with her husband in the Methow Valley, WA.  Red Umbrella Designs has been part of our core Lady Made, Local Made Collection since Posy opened.  We heart them so much!